This post may contain affiliate links or ads and we may earn a small commission when you click on the links at no additional cost to you. As an Amazon Affiliate, we earn from qualifying purchases. This is at no additional cost to you and helps with our website expenses.
Hiking gifts for her can bring endless smiles. There's something truly magical about hiking.
It's the rhythmic crunch of gravel beneath boots, the intoxicating scent of wildflowers, and the unparalleled freedom that only vast, open trails can offer. And for many, it's not just a weekend activity but a way of life.
Why the Right Hiking Gifts for Her Matters
Every woman on the trail, whether she's conquering steep mountain paths or indulging in peaceful nature walks, has her unique flair and preferences. Some seek the adrenaline rush of challenging terrains, while others yearn for the calm of meandering forest paths.
Gifting isn't just about the object. It's about understanding these distinct passions, appreciating her journey, and elevating her hiking experience.
And when it comes to finding that perfect hiking gift for her, it's essential to match the present with her unique hiking spirit.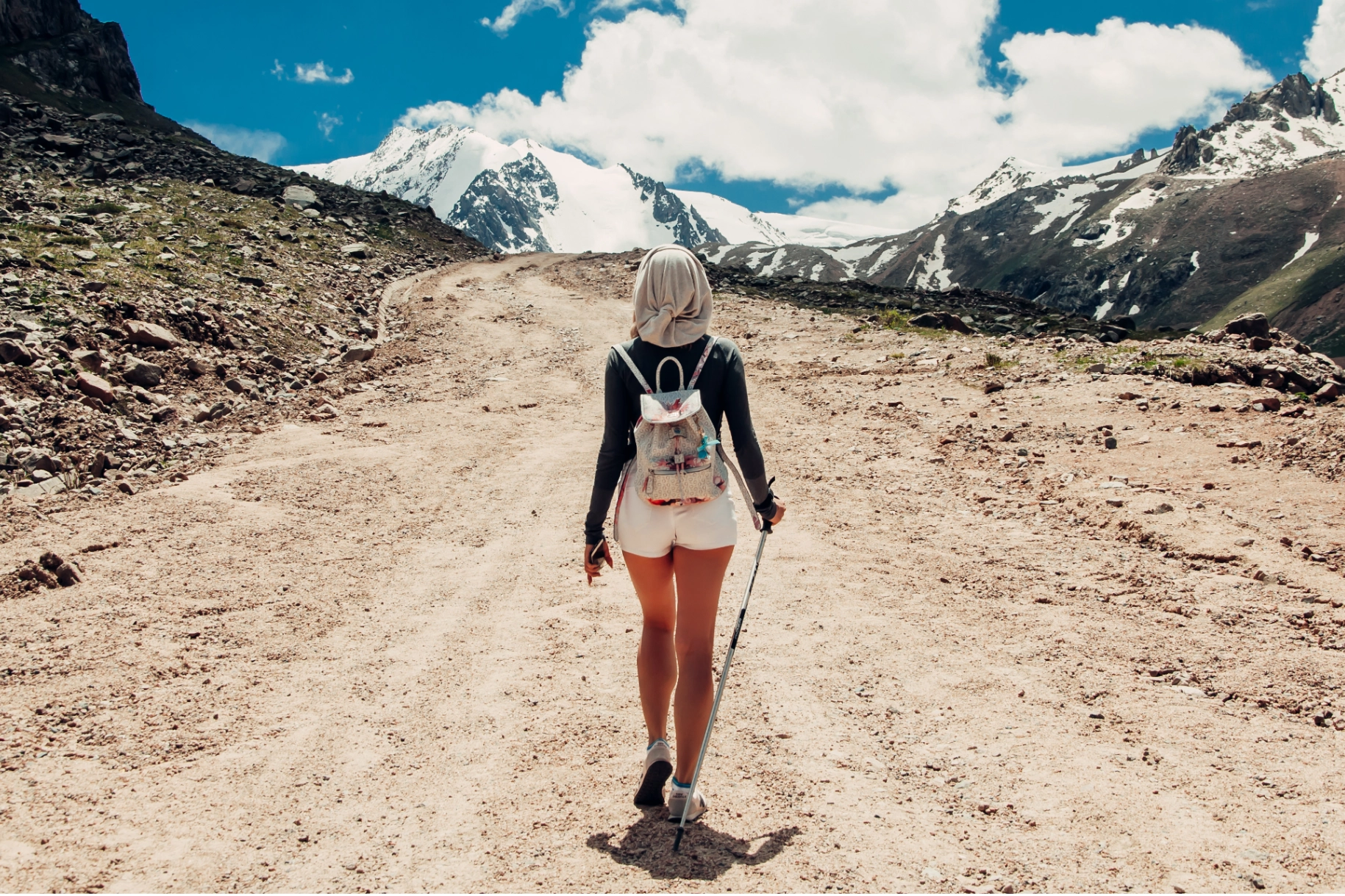 After all, the best gifts resonate deeply, becoming cherished trail companions for many hikes to come.
Understanding the Hiker: Tailoring Hiking Gifts for Her
Delving into the world of hiking reveals a spectrum of enthusiasts, each with her own rhythm and reason. From the adrenaline-driven to the calm wanderer, understanding her hiking style is key to finding a gift that resonates and enhances her experience.
Hardcore Hikers: Characteristics and Needs
If you've ever met a hardcore hiker, you know they're a special breed. These are the women who wake up before dawn to catch the sunrise at the peak. They live for the challenge, pushing their limits with every step. Here's what defines them:
Determination: Come rain or shine, they're on the trail.
Passion for Gear: They know their equipment inside out.
Endurance: For them, a 20-mile hike is a casual weekend plan.
Adventurous Spirit: They're always up for new trails and challenges.
Understanding these characteristics can help in picking out gifts that cater specifically to their adventurous nature and demanding trails.
Casual Hikers: What They Value Most
Casual hikers relish the experience just as much, but they might not always be chasing the most challenging trails. For them, hiking is as much about the journey as the destination. Here's what they value:
Connection with Nature: A serene walk amidst greenery does wonders for their soul.
Social Experience: Hiking with friends or family is their idea of a perfect day out.
Comfort: They prefer trails that are manageable and won't leave them too worn out.
Scenic Beauty: It's less about the distance and more about the views and the surroundings.
Knowing this can help in choosing gifts that emphasize comfort, utility, and aesthetics, making their hiking journeys even more memorable.
Nature Walk Enthusiasts: The Beauty of Leisurely Hikes
Nature walk enthusiasts are in it for the sheer love of the outdoors. They might not be scaling high peaks, but their walks are filled with wonder. Their hikes often revolve around:
Observation: Spotting a rare bird or identifying a unique plant is their kind of thrill.
Peace and Quiet: For them, these walks are a form of meditation.
Casual Exploration: They're not in a rush. Every step is about savoring the beauty around.
Simple Pleasures: The sound of rustling leaves or the sight of a serene pond holds immense joy for them.
For such enthusiasts, gifts that amplify the joys of their tranquil outdoor moments are ideal.
Gift Ideas for Hardcore Hikers
When it comes to those women who are always up for a challenge, conquering the steepest inclines and roughest terrains, the gifts need to match their high-energy spirits and hardcore commitment.
Here's a curated selection tailored to these dedicated trailblazers.
Hiking Gifts for Her: High-End Choices
For the woman who finds solace in the trails and seeks only the best gear to accompany her, high-end choices are the way to go. These premium selections not only ooze quality and durability but also promise to elevate her hiking experience to unparalleled heights.
High-tech Hiking Boots:
A hardcore hiker's best friend is undoubtedly her boots. High-tech hiking boots not only provide the much-needed support for challenging terrains but also offer waterproofing, breathability, and optimal grip.
Brands like Salomon, Timberland, and SCARPA top the list when it comes to merging technology with trail comfort.
Sale
Salomon Women's Outpulse Mid GTX Hiking Boots
Introducing the Salomon Women's Outpulse Mid GTX Hiking Boots – the perfect hiking gift for her. These boots offer optimal comfort and performance, with a waterproof Gore-Tex membrane to keep her feet dry.

The durable synthetic upper provides excellent support on rugged terrains. With premium energy return and cushioning, she'll experience maximum comfort during long hikes. Stylish and versatile, these boots are perfect for any trail adventure.
Sale
SCARPA Rush Polar GTX Waterproof Gore-Tex Synthetic Insulated Boots
Discover the ultimate winter hiking and trekking boots. These boots are designed to keep your feet warm and protected during cold adventures. With GORE-TEX Insulated Comfort and PrimaLoft Gold Eco synthetic insulation, they provide exceptional warmth and insulation.

The suede leather upper offers durability and support, while the rugged outsole and midsole ensure stability and comfort on any terrain. Stay dry with their waterproof and breathable design, making them perfect for snowy trails. Get hers on Amazon now!
Sale
Timberland Women's Chocorua Trail Boot
Looking for the perfect hiking gift for her? Look no further than the Timberland Women's Chocorua Trail Boot. These boots offer both style and functionality for any outdoor adventure. With a waterproof Gore-Tex membrane, her feet will stay dry even in wet conditions.

The durable rubber lug outsoles provide excellent traction on various terrains. Made with full-grain leather and a lace-up design, these boots offer comfort and support throughout the day.

Surprise her with these Timberland Chocorua Trail Boots, a thoughtful gift that will elevate her hiking experience.
Advanced GPS Devices

Being on a new and rugged trail requires precise navigation. Advanced GPS devices, designed especially for hikers, come packed with features: accurate topo maps, real-time weather updates, and emergency SOS.
Garmin's range of hiking GPS devices is a popular choice, ensuring she's always on the right path.
Sale
Garmin Instinct 2S Solar
Looking for a great hiking gift for her? Look no further than the Garmin Instinct 2S Solar. This smaller-sized GPS outdoor watch combines functionality and style, making it the perfect companion for her outdoor adventures.

With solar charging capabilities, multi-GNSS support, Tracback routing, and a durable design, this smartwatch will elevate her hiking experience. Gift her the Garmin Instinct 2S Solar and let her conquer the trails with confidence.
Sale
Garmin Handheld GPS Navigator
Introducing the Garmin eTrex 22x, a rugged handheld GPS navigator in Black/Navy. Designed for outdoor enthusiasts, this reliable device features a 2.2″ sunlight-readable color display with improved readability. With preloaded TopoActive maps and support for navigation, the eTrex 22x ensures you explore confidently.

Whether you're hiking, camping, or trekking through challenging terrain, the eTrex 22x provides valuable navigation assistance. Its durable construction and rugged design make it built to last, while its compact size allows for easy portability.