This post may contain affiliate links or ads and we may earn a small commission when you click on the links at no additional cost to you. As an Amazon Affiliate, we earn from qualifying purchases. This is at no additional cost to you and helps with our website expenses.
As an older woman, it can be difficult to find activities that are both enjoyable and suitable for your age. However, there are plenty of hobbies for older women out there. From tending to a garden to baking delicious treats, or taking up a new craft, there is something for everyone to enjoy.
Whether you're looking for something relaxing, or a hobby that's more active and stimulating, the options are practically endless.
Ideas for Hobbies for Older Women for you to Consider:
#1 Reading for Relaxation and Mental Stimulation
Reading is an excellent hobby for older women, as it provides relaxation and mental stimulation. Not only is it enjoyable to curl up with a good book, but reading can also open up new avenues of knowledge that can benefit your life in many ways.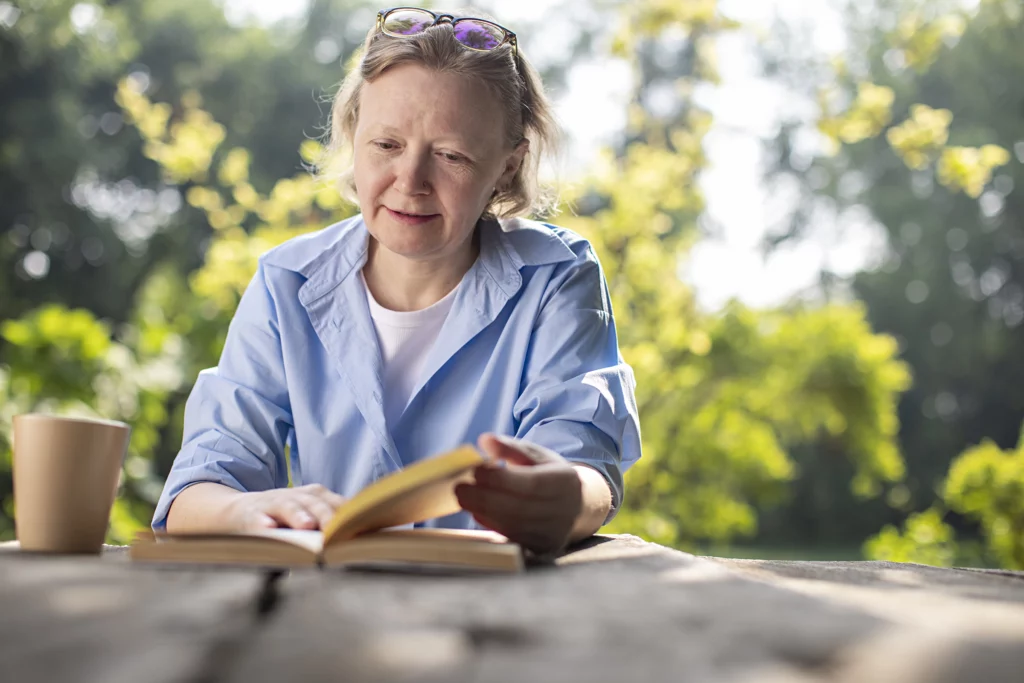 For starters, reading encourages creative thinking by allowing you to explore different worlds and times through literature.
You could travel back in time with a historical novel or get lost in the pages of a gripping mystery – the choices are many!
Plus, studies have found that reading promotes brain health and helps prevent cognitive decline. It also decreases stress levels and increases happiness.
What's great about this hobby is that it's easy to pick up from wherever you are present. Whether you prefer paperback books or e-books on your tablet device, there is no shortage of captivating stories for older women to enjoy.
#2 Gardening is Therapeutic, Rewarding, and one of the Hobbies for Older Women that want to Stay Active
If you're an older woman looking for a hobby that's both therapeutic and rewarding, then gardening might be the perfect pastime for you!
Gardening is an activity with many benefits, including improved physical health, mental well-being, and even the chance to get creative.
It doesn't matter if you have a big backyard or a small balcony – gardening is accessible to any space size.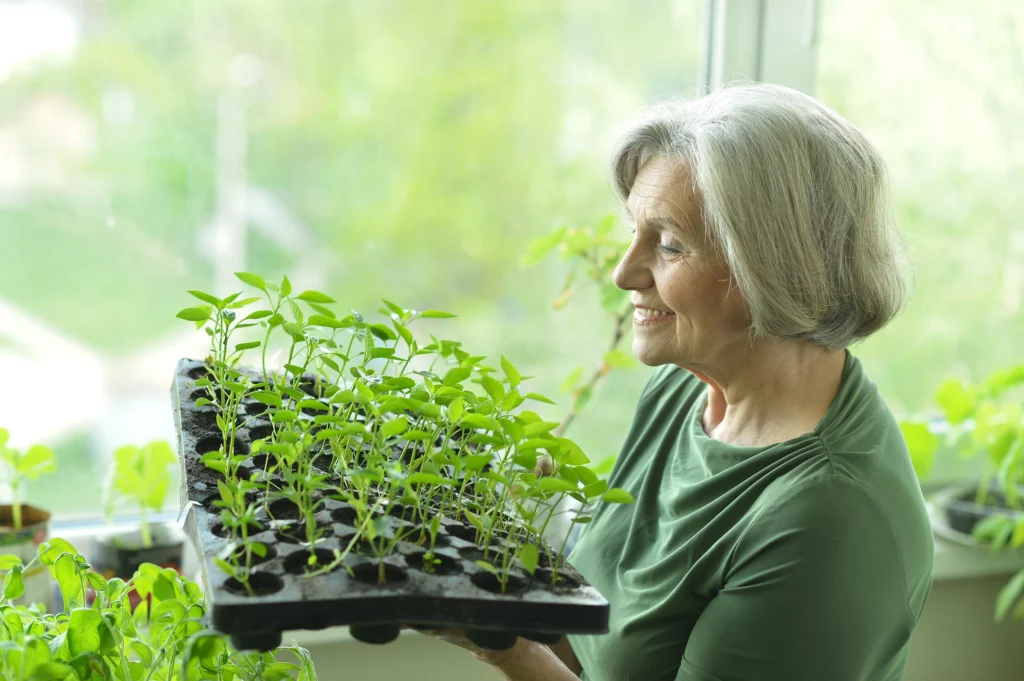 Gardening can provide a sense of relaxation after a long day. Planting flowers provides bright colors that can help lift your mood and create positive vibes in your home.
Not only does time spent outdoors benefit your body but it also helps clear your mind – giving you time to reflect on life events in a comfortable setting.
And there's no better feeling than seeing something grow from a seed into a vibrant plant.
Read our article about indoor gardening for even more ways to garden!
#3 Painting — Watercolors, Oils, or Acrylics
Painting is a fantastic hobby for older women who want to express their creativity and explore the world of art. It's not only a great way to pass the time but it can also be used as an outlet to relieve stress and anxiety.
With so many different mediums available, painting is particularly accessible and enjoyable for those in their golden years.
Watercolors, oil paints, acrylics – these are just some of the materials that older women can use to paint beautiful works of art from the comfort of their own homes.
Whether it's sketching a landscape or crafting an abstract masterpiece, painting allows ladies to create something stunningly unique that will last for generations.
#4 Photography — Capture and Preserve Special Moments and Memories
Photography is a great hobby for older women who are looking to stay active, preserve memories, and have fun! It's a hobby that can be enjoyed both indoors and out.
Taking pictures with a good quality camera or even just your smartphone allows anyone to capture the moments in their lives that matter the most, from stunning landscapes to special family milestones.
Older women can relive their favorite memories by framing their best photos; displaying them in the home or giving them as gifts for special occasions.
Photography also presents an opportunity to take pictures of grandchildren, allowing you to document every milestone of their childhood while enjoying some quality time together. You can never have too many photos of grandkids!
Plus, who doesn't love getting creative with filters and editing tools? So why not pick up a camera and have some fun?
#5 Knitting: Relaxing, Warm, and Cozy
Knitting is a timeless, classic hobby that never goes out of style. For many older women, it's their go-to activity to keep their minds sharp and bodies busy. Whether you're an experienced knitter or just getting started, there are plenty of reasons why knitting can be one of the greatest hobbies for older women to pursue in their golden years.
For starters, knitting is a creative outlet that allows you to express yourself and develop skills like problem-solving. It also gives you the opportunity to create beautiful handmade items for yourself or as gifts for friends and family. Plus, it doesn't require extensive training or expensive materials – all you need is some yarn and needles!
#5 Sewing a Variety of Things
Sewing is a great hobby for older women to both express their creativity and save money. Sewing projects can range from repairing clothing, trying out new fashion trends, or even making household items like curtains and pillows.
With the help of some basic sewing tools and supplies, elderly women can easily indulge in this exciting hobby that doesn't cost an arm and a leg.
For those looking for a creative outlet, sewing is the perfect way to let your imagination run wild! Whether it's stitching up a blouse or working on embroidery art, there are countless ideas out there that will get your creative juices flowing.
Plus, it's fun to see the end result of your hard work once the project is finished!
#6 Baking Tasty Treats, One of the Best Hobbies for Older Women
Baking is a wonderful hobby for older women that provides numerous benefits. Not only does it offer the opportunity to relax and enjoy a creative outlet, but baking can also be an enjoyable way to spend time with family and friends! There's nothing better than the smell of freshly baked treats wafting throughout the house.
Getting started with baking doesn't have to be intimidating. Even if you've never baked before. It's easy to learn and requires no prior experience or special skills.
There are plenty of simple recipes available online and in cookbooks that use ingredients you likely already have in your pantry. With each successful attempt, your confidence will grow! As a bonus, you get delicious treats as a reward!
From traditional cakes and cookies to pies and other pastries, there are endless possibilities when it comes to baking.
#7 Cooking Recipes from Other Countries
Cooking recipes from other countries is a fun and educational hobby for older women. Not only does it provide an opportunity to explore cultures around the world, but there are many health benefits associated with discovering new ingredients and eating exotic dishes.
It's time to break out of your comfort zone and have some culinary adventures!
From Mexican enchiladas to Italian pasta dishes, there are endless delicious possibilities when you cook international recipes.
Not only can you learn how to recreate a dish like an authentic local chef, but you may even discover new flavors or textures that inspire your own cooking creations.
You can make classic dishes like pad Thai or try something more unusual like Japanese okonomiyaki – the choice is yours!
Plus, if you need some guidance on where to start, there are plenty of helpful online resources available for finding reliable recipes from all over the globe.
#8 Write in a Journal
Writing a journal is an excellent hobby for older women to enjoy. Not only does it give them a creative outlet, but it can also help them reflect on the events of their day and document the adventures in their life.
With so many benefits, it's no wonder that journaling is one of the most popular hobbies among older women!
By writing down events, feelings, thoughts, and ideas in their journal, older women can be sure to remember special moments and even discover answers to questions you may have been struggling with.
Keeping a journal is also great for those who want to improve or learn more about themselves by understanding past experiences and lessons learned along the way. It's an easy yet rewarding activity that can bring joy and comfort throughout each stage of life!
#9 Hiking for Exercise and Enjoying the Beauty of Nature
Hiking offers an array of physical and mental health benefits for older women. Not only does it improve strength and endurance, but it can also be a great way to make friends and explore beautiful natural areas.
Getting out on the trails doesn't need to be intimidating either – there are plenty of beginner hikes available that offer stunning views without requiring any prior knowledge or experience.
For those looking for a bit more adventure, there are dozens of longer trails with challenging terrain that will really test your stamina! Regardless of your skill level, hiking is an accessible activity that anyone can enjoy.
The great thing about hiking is you can do it solo or in a group. Why not bring along some girlfriends and make an afternoon out of it?
#10 Yoga: Relax and Improve Balance and Flexibility
Yoga is an amazing hobby for older women, as it offers countless physical and mental benefits. This ancient practice helps to improve balance, strength, flexibility, coordination and stamina – all of which help guard against falls in the elderly.
It also helps to reduce stress levels, enhance sleep patterns and promote relaxation.
For those who are looking to start a new hobby that is tailored to their age group, yoga can be a great choice! Not only does it offer an enjoyable way to exercise and stay active; but it's also low impact so any age can take part without worrying about too much strain on the body.
Additionally, attending classes with other people at the same stage of life brings valuable social interaction – something that many elderly people often lack!
#11 Swimming for Low-Impact Exercise and Fun
Swimming is an ideal hobby for older women! It is a great form of exercise that can help to keep you feeling young and vibrant. It also provides a refreshing break from the stresses of everyday life.
Whether you are looking for some light aerobic activity or just want to relax in the water, swimming has something for everyone.
For those who enjoy getting their heart rate up, swimming laps in the pool can be a great way to stay active and improve cardiovascular health. For those who prefer more leisurely activities, floating around on an inflatable raft or taking in the sights from beneath the surface of the water can be equally enjoyable and even therapeutic.
Plus, with all the fun accessories available such as goggles and pool noodles, swimming will never get boring! So why not take advantage of this great opportunity to stay fit while having fun?
#12 Birdwatching: Observe and Learn with this Hobby for Older Women
Birdwatching is the perfect hobby for retired and older women! Not only is it a great way to get outdoors and enjoy the fresh air, but birdwatching also provides a sense of connection with nature that's both calming and inspiring.
It can be enjoyed anywhere—from your own backyard to nearby parks or other outdoor spaces. Plus, it's something that can be enjoyed alone or with friends—whatever works best for you!
It doesn't require any special equipment, so all you have to do is grab your binoculars and head outside.
Whether you're an experienced birder or just starting out, birdwatching will give you plenty of opportunities to learn about different species of birds in your area.
You'll be able to identify different birds based on their size, coloration, song, behavior, and more!